COVID-19 Resources
Posted on March 12, 2020 View More News
2ND REQUEST TO GOVERNOR IGE FOR TAX FILING RELIEF (4/7/2020)
Hawaii Banks - online application for PPP:
VOICE YOUR CONCERNS AND E-MAIL GOVERNMENT OFFICIALS - SEE HSCPA'S REQUEST HERE as of 3/27/2020
COVID19 State Executive Action and Accounting as "Essential Business"
The IRS just posted FAQs in regards to the tax payment and filing relief announced last week.  https://www.irs.gov/newsroom/filing-and-payment-deadlines-questions-and-answers. 
Council of State Taxation (COST) Tracking:  Click here
Update 2 as of 3/19/2020 3:00 p.m. Hawaii time: Good news to report – language from S. 3535 that gives a 3-month delay for the filing deadline, and postponing estimated tax payments due until October 15th , was included in the bigger bill introduced in the Senate late today. Great outcome - we'll watch for Senate action next!
Update as of 3/19/2020 (the HSCPA also urged Senators Hirono and Schatz to support S.3535 Tax Filing Relief measure)
The HSCPA sent a similar request with recommendations to the Hawaii Department of Taxation.  View letter here.
We are aware that Treasury Secretary Mnuchin announced today (3/17) a series of tax relief measures designed to assist taxpayers and tax preparers during the coronavirus pandemic. The AICPA is confirming the specifics of these actions with the Dept. of Treasury and IRS and will update us as soon as possible.  Please continue to monitor our website for updates.
Web-based resources and business continuity planning tips (based on FEMA guidance) as you monitor, prepare for, and respond to COVID-19:
The primary websites for COVID-19-related information from the Centers for Disease Control and Preventions (CDC) and the World Health Organization (WHO):  
CDC: https://www.cdc.gov/coronavirus/2019-ncov/index.html
WHO: https://www.who.int/news-room/q-a-detail/q-a-coronaviruses
Monitor local interpretations and applications is the Rhode Island Department of Health: https://health.hawaii.gov/docd/advisories/novel-coronavirus-2019/
The Johns Hopkins COVID-19 Global Case Map shows all of the confirmed cases, recovered cases, and deaths due to COVID-19 across the world:
https://gisanddata.maps.arcgis.com/apps/opsdashboard/index.html#/bda7594740fd40299423467b48e9ecf6
GENERAL BUSINESS: Interim Guidance for Businesses and Employers to Plan and Respond to Coronavirus Disease 2019 (COVID-19), February 2020: https://www.cdc.gov/coronavirus/2019-ncov/specific-groups/guidance-business-response.html
GENERAL PREVENTION: Nonpharmaceutical Interventions (NPIs): https://www.cdc.gov/nonpharmaceutical-interventions/index.html
OSHA  COVID-19 Guidance:  https://www.osha.gov/SLTC/novel_coronavirus/index.htmlexternal icon
TRAVEL:
Coronavirus Disease 2019 Information for Travel: https://www.cdc.gov/coronavirus/2019-ncov/travelers/index.html
Travel Health Notices:https://wwwnc.cdc.gov/travel/notices
Department of State Travel Advisory Levels chart and color-coded map https://travelmaps.state.gov/TSGMap/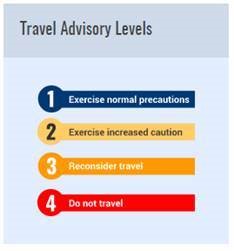 CDC Traveler Advisory and Info Website