Student Benefits for CPA Exam Review
Posted on October 3, 2018 More Young Professional Resources
Attention:  Students
Take advantage of a CPA Exam Review discount    
Through our partnership, the HSCPA is pleased to offer Hawaii students a discount with Surgent CPA Review.  Use the special code HSCPASK53 for a 35% discount off Essentials, Premier and Ultimate Pass.
Surgent CPA Review can help students prepare for the CPA Exam-either during or after their undergraduate or graduate education.  Our 100% online course utilizes a state-of-the-art adaptive learning platform that shortens study time and improves retention allowing students to prepare and pass faster!  Enrollment includes access to the online system and its 350+ lectures, a test bank of more than 6,000 multiple-choice questions, 250 simulations, textbooks, customized study guides, complete practice exams, and a study planner.  HSCPA student members receive a 20% discount on their full course or individual course purchase.
Candidates also receive an E-book and a PIN Code for access to software for each part of the Exam.  Software is good for one year from the time it is activated.  E-books do not expire.
Click here for additional details on the Surgent CPA Review course.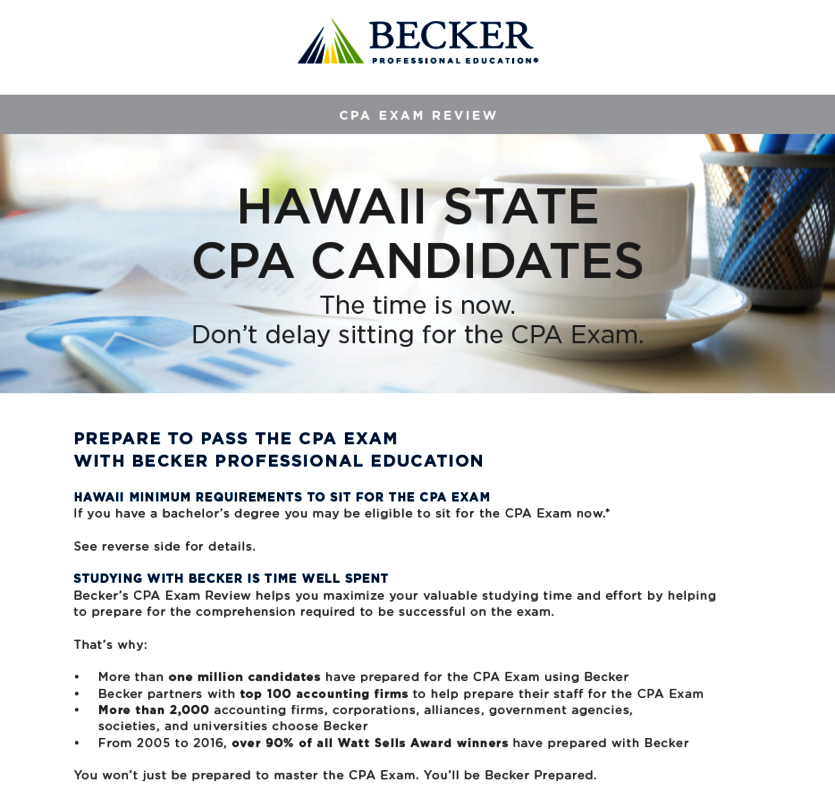 Becker CPA Review - HSCPA Discount:  Click on Becker CPA Review and create an account.  On the "Affiliation" tab, select Hawaii Society of CPAs to apply $300 discount.